England and Scotland add Balearic Islands to orange list
Travelers returning from the Balearic Islands to England from next week will be required to self-quarantine at home unless they have had both Covid vaccines following a change in government policy.
The Balearic Islands were added to the Orange Travel List just over a fortnight after going green, while the quarantine on return from Croatia and Bulgaria will end.
Spanish tourist hotspots of Ibiza, Mallorca, Menorca and Formentera will be removed from the green list, exempting any need to self-isolate in England from Monday amid concerns over increasing coronavirus cases.
But the change will coincide with the end of the need to quarantine fully vaccinated UK residents and those under 18 on return from Orange List countries.
In a boost for holidaymakers, Croatia will go green, meaning arrivals to England won't have to self-isolate for 10 days upon their return, regardless of their vaccination status.
Hong Kong and Taiwan will also go green, while the British Virgin Islands will be added to the Amber List.
Cuba, Indonesia, Myanmar and Sierra Leone will turn red, which means 10 days of isolation in a quarantine hotel is mandatory.
Transportation Secretary Grant Shapps said the changes will take place at 4 a.m. on Monday.
Relocations do not mean normal travel, however, as a pre-departure test is required as well as two additional days after returning to England, even from green countries.
Ibiza, Mallorca and Menorca are also added to Scotland's amber travel list, the Scottish government has said.
He said the decision – which will take effect from 4 a.m. on Monday – was taken on a four-nation basis and follows the
earlier announcement from Mr. Shapps.
Scottish Environment, Biodiversity and Land Reform Minister Mairi McAllan said: "From the outset we said caution was in order with international travel and people should think very carefully to a trip abroad, because situations can suddenly change.
"When we added the Balearic Islands to the green list, we said we would be monitoring the data closely, and the increase in cases we have seen means we now need to take them off the green list."
Keeping face coverings on London public transport – Sadiq Khan
London Mayor Sadiq Khan has called for the use of face coverings to remain mandatory on public transport in the British capital after the government plans to ease the curbs on Covid-19 on July 19.
Under the plans, passengers on Transport for London (TfL) services, which include the city's tube, bus, tram and railway networks, would be required to wear a face covering after the end. an England-wide requirement as part of the plans defined by Prime Minister Boris Johnson. government.
"I have made it clear on several occasions that the simplest and safest option would have been for the government to maintain the national face covering requirement in public transport," Khan said in a statement.
"I am not prepared to sit idly by and put Londoners and the recovery of our city in jeopardy. That is why, after careful consideration, I have decided to ask TfL to maintain the obligation for passengers to carry a face covering on all TfL services, "he added.
Johnson and his Health Secretary Sajid Javid have said all virus brakes in England will be removed on July 19 as part of a transition from applicable rules from Covid-19 to personal liability.
But the move sparked concern from scientists who warned the decision to unlock was made too quickly and could lead to a dramatic increase in infections.
"By maintaining mandatory face masks, we will give Londoners and visitors the confidence and confidence to make the most of what our city has to offer, while protecting our heroic transport workers," said Mr. Khan.
"It's an extra layer of protection on top of the improved cleansing regimen from world-leading TfL – and I'm sure Londoners will continue to do the right thing as they have throughout the pandemic, and will continue to wear face coverings on TfL services, "he added.
---
Latest Coronavirus Stories
---
Covid-19 outbreak on a Royal Navy ship
The flagship of the British Royal Navy, HMS Queen Elizabeth, has been affected by an outbreak of Covid-19.
The aircraft carrier is about a quarter of its 28-week deployment leading the CSG, which includes a U.S. destroyer and ten Marine Corps F35-B fighters, and is currently in the Indo-Pacific.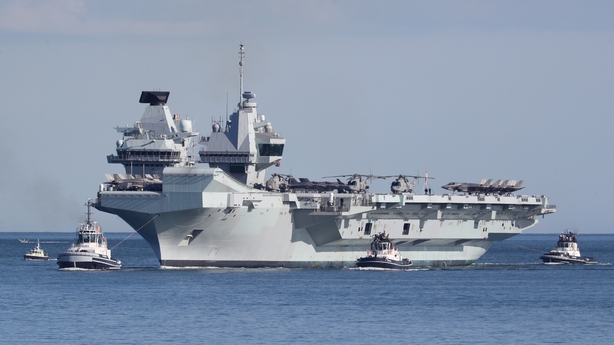 A Royal Navy spokesperson said in a statement: "As part of routine testing, a small number of Carrier Strike Group crews have tested positive for Covid-19.
"All staff deployed to the UK CSG have received both doses of the Covid-19 vaccine and there are a number of mitigation measures on board including masks, social distancing and a tracking and tracing system.
"The Carrier Strike Group will continue to perform its operational tasks and there will be no effect on the deployment."
Additional report AP